Hi all pet lovers! We know how time-consuming it can be, trawling through all the many Christmas ideas available online, so we thought we'd try to help by doing some of the work for you! These are the favourites that have been picked by our team, focussing on eco-friendly good quality products, all with great reviews.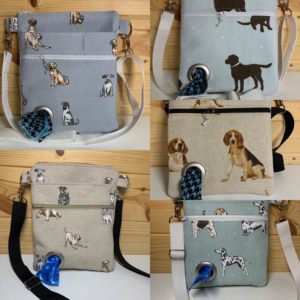 Our absolute favourite! Dog walking poop bag, natural fabric £20.00
As dog owners ourselves we do understand how vital it is to have poop bags at the ready!! And rather than having a tangled pile of bags in your pockets, how about this truly stylish and quality bag-holder…dispensing bags as your beloved pets goes!
It's available in two sizes, medium and large. We LOVE the design that gives 2 compartments, for your phone and keys and bags – perfect! We love the fabric and design of these, so enjoy swanning about the park with this as a fashion icon! (Stretching it a bit!)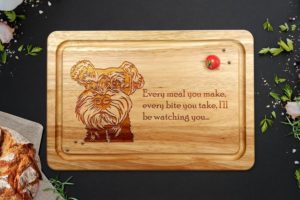 Our next gift find is this Eco Personalized dog/cat chopping board £15.99
Although there's a delightful Schnauzer featured on this one, check out their site and you can see that this fab company will personalize the board for you… with more than just pet images! These boards are made of sustainable Hevea hardwood and feature an integral juice groove. 30 X 20 cm, hand wash only….they're too fab to stick in the dishwasher!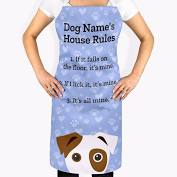 The next choice is so practical you might be tempted to gift it to yourself, and why not! Personalised Fabric Dog Apron £19.99
We love the fact that it can be personalized, and all the designs are funky with a great expression on the animals' faces! It comes in one size 81cms X 57cms that will fit most adults – or a determined child! There's a choice of 4 colours so make sure not to miss ticking that box! We love the take on Sting's huge hit song….wonder if he knows?! Another pet product with great reviews so you can't go wrong!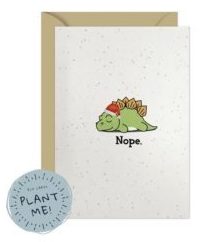 Here's such a great idea……an Eco-planting seed dinosaur dog Xmas card £4.35
They are handmade in the UK using 100% recycled, eco friendly & biodegradable materials. The seed paper is packed full of seeds and they choose their seed mixes with bees in mind and each sheet includes Sweet Alyssum, Poppy, Baby's Breath & Basil. These are non-invasive species that are commonly found in the wild and in garden shops. They can be grown in pots and left outside for bees and other pollinators.
*The card can be potted indoors, and when the season is right, outdoors. Another wonderful and valuable way to help to boost our bees!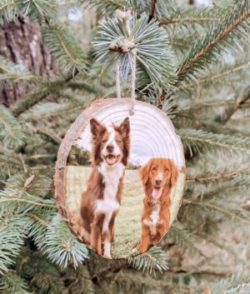 Can you tell we love personalized gifts?!! This could well be another one of those you decide to have for yourself too! It will be treasured for many years and be proof (as if you need it) of the love we have for our pets! This Wood-slice Xmas dog/cat decoration at £9.50 can be personalized with your own photo on one side and a message on the other, or you can choose a photo for each side. A really original item for people to treasure…and not just for Christmas!
We do hope these ideas have sparked some inspiration for you… Happy pet shopping from the team at Pet 24!